Welcome by The Club Chairman,
Mr Paul Webb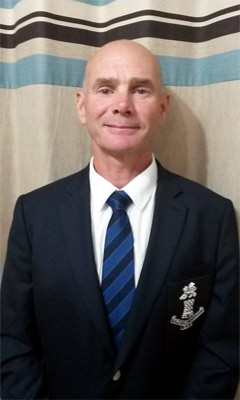 The 2017 season has been an excellent and enjoyable start to my term as county chairman, with the new all stars cricket ,girls, ladies and junior cricket been played ,and it's a credit to all the volunteers coaching every week ,and Laugharne cricket club re- joining the Pembrokeshire league ,cricket is on an upward curve in Pembrokeshire.
I would like to congratulate all the league and cup winners, with all the four cup finals were well supported and there was some excellent cricket was played.
All the league division were well contested ,right up to the end of the season.
However we did have a disappointing end to the season in division one, and we all know what happen at Carew, its not how we want to see cricket been played in Pembrokeshire or anywhere for that matter.
I thank our sponsors, Thomas Carrol ,TsR us, Thomas Scourfield and son, Tony Pidgeon, Hugh Harrison-Allen, Llewellyn Davies, Lords International and the Morris family of Burton, for all their finical commitment during the year.
Thank you to Peter Davies for organising our indoor league and Neil Croucher for umpiring every game during the indoor cricket season.
Congratulations to Haverfordwest cricket club for winning the indoor league,
Winning the welsh championship and the regional zone final and I wish them every success in their next stage at Edgbaston on Sunday ,and hopefully they will progress to the British indoor finals at lords.
Hopefully their success will inspire other clubs to join the indoor league.
Thank you to the local press; Bill Carne, David and Hywel Gibbs, Gordon Thomas, Fraser Watson, Brian and Susan Mckenon and Jon Twigg, for their excellent coverage and photos of cricket in Pembrokeshire.
The senior county team had six fixtures during the season with two good wins against wales xl club at Kilgetty cc and the South Wales league at Neyland cc, and with losses against Wales under 17s at Carew cc and the South Wales league at Llandysul cc, unfortunately the games against the MMC and Glam.2nds were not played due to weather . I thank the clubs for hosting the games, and the county selectors and players for theirs efforts during the season, it is important to play these games to promote the cricketing talents we have in Pembrokeshire.
Nick Evans was our new president and I thank him for the way he has supported me and promoted cricket around the county.
To the officers and executive committee, I thank you for all work , commitment and the fantastic support that you have given me throughout the year, I could not have asked for a better group of people to work with.
I do have some concerns with the lack of umpires, the umpires association are doing an excellent job, with Dave Morris and Arthur Brady appointing cup and league umpires, but I do feel that they need more support from the clubs in getting people to take up umpiring if we are to continue having appointed umpires on a Saturday in div.1 and div 2.
To you all as cricketers, umpires, scores and supporters of your clubs I thank you for the friendly welcome I have received from you, I know I didn't get around all the clubs , but I will be this year , I wish you all a successful and enjoyable 2018 season.
Paul
(Paul Webb, Chairman, Pembroke County Cricket Club)