NEWS.
---
It is with great sadness and a heavy heart that we have recived the news that John Williams passed away this morning, Thursday 15th August 2019, with his family at his bedside.
Our thoughts, and I am sure the thoughts of the whole of the Pembrokeshire Cricket family, are with Hilary, and the boys at this very sad time.
---
Revised Division two results and table on the results page following replay of the Pembroke Narberth game

---
The County side to play South East Wales Cricket League away @ Pentyrch CC on Sunday August 11th 1pm start 40 over match.
Sean Hannon(C)
Henry Durant
Nick Koolmen
Simon Holiday
Tom Davies
Andrew Pawlett
Brennan Devonald
Brad McDermott-Jenkins
Toby Hayman
Ross Hardy
Mathew Davies
Ceri Brace (12th man)
---
Pembroke County Cricket Club wishes local Umpire John Williams a speedy recovery from his injury.
---
Player of the Month for June 2019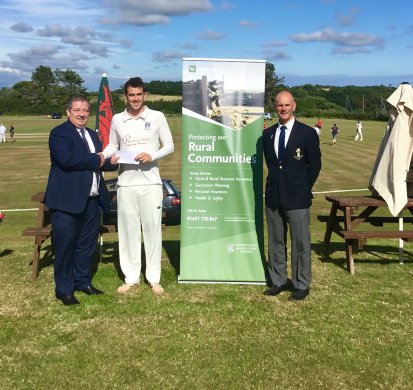 Nicky Cop of Saundersfoot CC, being presented with the trophy by Mr. Brian Hawkins
of Thomas Carroll, our League Sponsors and County Club Chairman
Mr. Paul Webb.
---
County team v Glamorgan 2nd XI @ Whitland CC wickets pitched at 1pm Tuesday July 16th
Sean Hannon(C)
Henry Durrant
Patrick Bellerby
Nick Kooman
Andrew Pawlett
Tom Davies
Dan Sutton
Brad McDermott-Jenkins
Toby Hayman
Ross Hardy
Mathew Davies
---
Find County Team v Llandysul photo by selecting: County Fixtiures & News - Senior County Team
---
Pembroke County cricket Club are pleased to announce that GD Harries & Sons Ltd will be the new Sponsor of the Harrison-Allen Bowl competition. PCCC wish to thank Thomas Scourfield & Sons for their sponsorship of the Bowl over a number of years
---
The County game v Swansea on Sunday June 23rd has be cancelled as they have an ECB Cup match v Bristol now after being abandoned on Sunday
---
Player of the Month for May 2019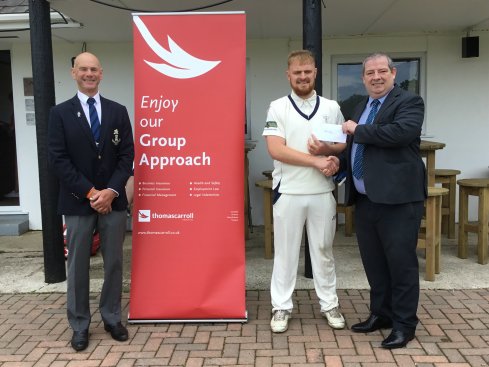 John Curran of LLechryd being presented with the trophy by Mr. Brian Hawkins
of Thomas Carroll, our League Sponsors and County Club Chairman
Mr. Paul Webb.
---
Find County Team v Wales Over 50's photo and scorecards by selecting: County Fixtiures & News - Senior County Team
---
Senior County Games for 2019


Sun 19th May Swansea CC/University at St. Ishmaels CC (Umipres: John Williams & Simon Richards)
Sun 9th June South Wales Cricket Association at Pem.dock CC (Umpires: David Brandon & David Bonner)
Sun 16th June XL Club Wales at Haverfordwest CC (Umpires: Arthur Brady & Mervyn John)
Sun 23rd June Swansea CC/University Away
Sun 30th June South Wales Cricket Association Away
Sun 14th July South East League Away
Tues 16th July Glamorgan 2nds at Whitland CC (Umpires: Alan Hansen & Steve Blowes)
Sun 11th August South East League at Pentyrch CC
Tues 20th Aug. MMC at Kilgetty CC (Umipres: Trefor Evans & Jon Willington)
---
Umpires Retire.
Three of Pembrokeshire's most popular umpires have decided to hang up their whites.
Les Hastings, Huw Davies and Denis Chiffi, for various reasons, have stepped down from umpiring around the county this season. This is a sad loss to Pembrokeshire cricket as they were all highly experienced umpires, well liked and respected, who are going to be greatly missed by colleagues and players alike.
Huw was recently awarded Life Membership of the Umpires Association for his services as Training Officer and to Committee over many years. A decision welcomed by all his colleagues. He still serves on the Umpires Executive so is not cutting his ties completely and Les still retains the Presidency of the Association sharing his wealth of experience with current members.
We wish both Les, Huw and Denis well in their retirement and hope we will still see them around the County enjoying their cricket from the other side of the boundary rope.
---
Umpires Move Forward.
At the recent AGM of the Pembrokeshire Association of Cricket Umpires and Scorers (PACUS), it was agreed after much debate, that they should align themselves more closely with the national umpires group, The Association of Cricket Officials (ACO), organised and run, albeit as a separate entity, by the ECB. Therefore with immediate affect, the association will now be known as The Pembrokeshire Association of Cricket Officials, or PACO.
This decision was based upon a number of factors, not least allowing access to the latest training materials produced by the ACO, which contain copyright material of television clips and videos of incidents which can be used for teaching new umpires and scorers. We have used the system for a couple of years now but were reliant upon the goodwill of the ACO allowing us access, and the availability of a tutor to deliver the course for us.
To address this issue, Richard Merriman has recently completed his instructor training with the ACO and can now deliver the course "in house" for Pembrokeshire and remove the need for the restrictions placed upon us.
The second factor involved in the change is the use of a national appointments system known as "Who's the Umpire". This system allows us to use a computer based program to make our umpiring appointments and deliver them electronically to the individuals appointed. This alleviates double appointments and allows a more even spread of umpires to clubs as well as the need for the Secretary to be continually making phone calls and amendments which he can now do via email at the push of a few buttons. It has made the job that much easier and again we are grateful to the ECBACO for allowing us access to the program at no cost.
In conclusion, it will take a little time to adjust and you may see little obvious change. The committee and the constitution remain unchanged and until we amend our paperwork you may still see stationary with our old headings affixed.
The name change and closer ties with the ACO will allow us access to more innovative training materials and any improvements that occur in the umpiring and scoring world in the future that we would otherwise be excluded from or find difficult to access.
Dave Brandon. Chairman.
Pembrokeshire ACO.
---